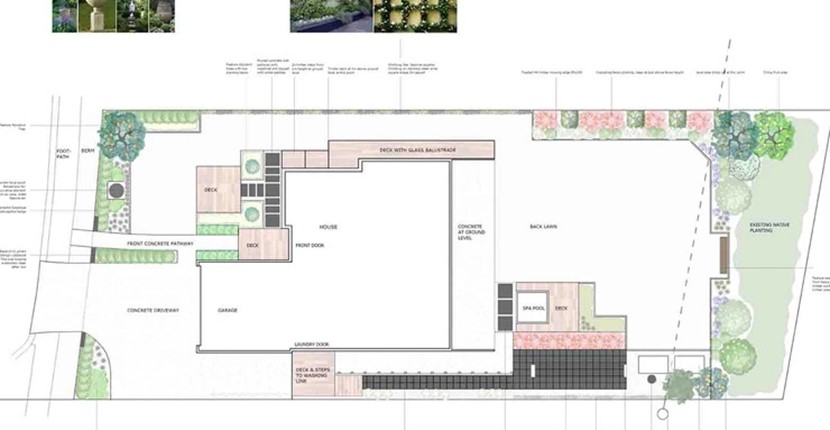 Designing your own dream garden can sometimes become overwhelming. When you are sure you know what you want and you have collected many Pinterest images of your 'perfect outdoor space', you are have kept up with the latest garden magazines and you have hung on that idea that you saw about 10 years ago… trying to decide what will work in your own space may be challenging… Be smart, trends are fleeting, try stay with what suits you and the people living there, the house and your environment. Here are some important strategies to remember before you start to plan your dream 'outdoor space'.
Seek a Professional Landscape
Designer
Whilst you may have a lot of wonderful ideas it may be tough to choose what ideas will actually deliver, how much it will cost and WHERE TO START? Whether you have a vision or not, a professional will always strive to create the best solution for you. Employing an experienced landscape designer to plan your project will turn your dreams into reality. Monika Olson Design has a robust landscape design process which allows the clients to collaborate and be part of that process. They strive to create outstanding landscape designs for timeless outdoor spaces.
Appropriate planning
Rome wasn't built in a day! A dream landscape also takes time to achieve... for the landscape design to be completed, the landscaping company to book you in, and time of the year may also delay your project (raining for days on end!) In some cases, building consent may take time too. A professional will help to plan things realistically and get the best results.
Stay open to suggestions:
After all your chosen landscape designer should be professional and experienced, so keeping an open mind about what is suggested. They will know how to get the best out of your property and add value in terms of functionality and style. Some of the main factors that come up as early consideration for your project are:
Architecture
Elements of the building and the garden should be in tune. Outdoor spaces should dance with the exit points of the building and views from the windows looking out. The outdoor space should interact and flow with architecture such as gates, columns or steps. Entertaining areas should relate to the home and be placed well.
Environment
Whilst we may have a good idea of what we want, it is good to be open to what the 'already existing environment' provides, for example, beautiful greenery, sunshine and shelter. However, when these desired features are not naturally there your landscape designer may suggest ways of creating them, for instance a better position for the deck to catch more sunlight; Creating shelter from the wind by utilising a hedge or timber screen.
Trending Accents
Being properly advised by a professional can save you a lot of money in the end. Trends are always coming and going, for example: whilst there are some gorgeous outdoor furniture suites trending now, they may not enhance or fit the style you are going for, the right colour or even physically fit the deck area well. This professional advice is crucial to finishing your desired look.
Aftercare
Being human is... seeing something and wanting it, and we are prepared to pay to have it – but most often we don't do our research about the involved time and cost to maintain these lovely things and keep them awesome! A garden is an evolving place, its growing! So even a low maintenance garden needs some kind of maintenance, weeding, watering and feeding… And what is not growing (hard landscaping) will need care too. A good professional will work with you as an important early consideration and suggest the best solution for your future.
At Monika Olson Design we can help make your dreams come true by determining your specific needs for your backyard and outdoor living. Contact us today! info@monikaolsondesign.co.nz